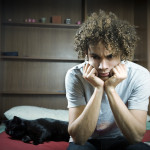 Thanks for your question. It's a common myth that guys don't get raped. The truth is anyone, regardless of gender identity, can experience sexual assault or rape. Sexual assault cannot be blamed on what a person was wearing, how they were acting, or on whether they were drinking or using any substances.
It's important to know it's not your fault and you are not alone. It's also normal to not know what to do, how to feel, or whether you want to tell anyone. These decisions are personal and totally your choice.
For more information on what to do we recommend looking at our health guide about sexual assault and rape.
We also recommend checking out the following resources:
Call the National Sexual Assault Hotline: 1-800-656-4673
If you have thoughts of hurting yourself or of suicide, call the National Suicide Prevention Lifeline: 1-800-273-8255
Regarding whether or not she may have gotten pregnant, that decision is also personal. With any pregnancy there are a few options, you can continue the pregnancy and then parent or pursue adoption, or you can pursue a termination or abortion. It's important to take time to consider how you would feel about a pregnancy.
Once you know how you feel, think about your relationship with her and whether you feel comfortable talking with her. Some things to consider are:
It's also important to know it's her body and ultimately her choice what to do. She also may or may not feel comfortable sharing this information with you. It's important to respect her decision.
For more support we recommend you contact your student health services or your health care provider. Your school may also have a specific office to contact for additional resources regarding sexual assault, including the option of reporting it.
You may also want to check out these health guides as well: