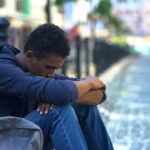 Thank you so much for reaching out and we are sorry to hear that your transition has been difficult. While the start of college can be an exciting time, it can also be a challenging time for many. Although transitions may spark feelings of sadness and being homesick, it sounds like you are expressing that your feelings are impeding your ability to move through your life comfortably right now. Being able to recognize that you are struggling and need support is incredibly brave, so you are on the right path! Here are some tips to consider:
Check for resources on campus. Most schools provide counseling or mental health services, so we encourage you to reach out to your school and see what resources are available to you. Consider going to your student health clinic, asking your resident advisor, or asking your student advisor. It is important to know that these resources are usually confidential.
Talk to a trusted adult. Many people find it helpful to talk to a trusted person who understands their feelings and gives them space to process their feelings comfortably.
In the meantime, be kind to yourself and try to do things that bring you joy- even if it is just listening to a song you love or playing a sport.